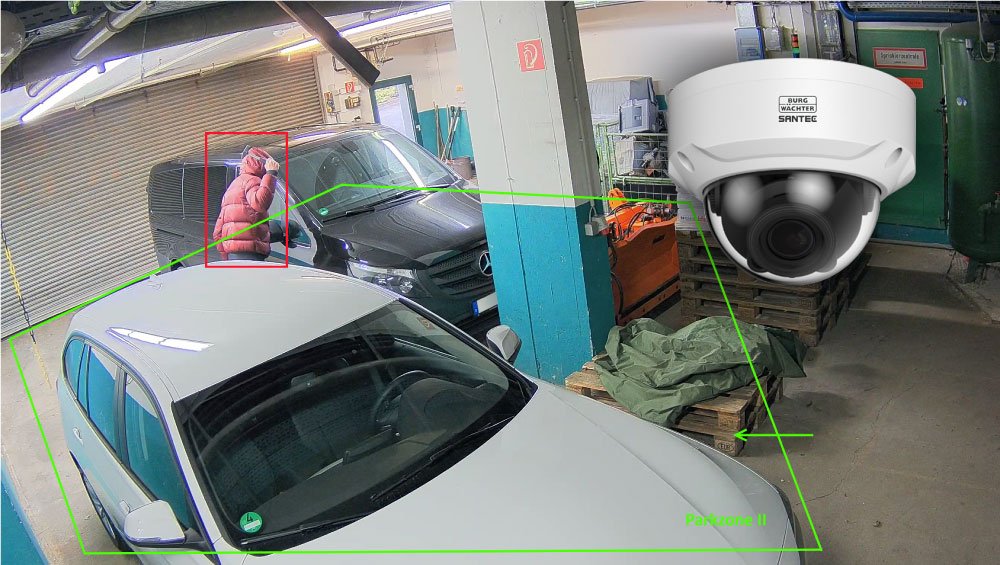 Model SNC-441 sees more, saves bandwidth, and delivers high image quality
A new 4 megapixel IP infrared camera has arrived from Santec BW. The SNC-441 has "IVA+". This enhanced Intelligent Video Analysis offers People Counting and Heat Map functions, among others. Thanks to H.265 Codec support, the smart newcomer saves bandwidth and develops correspondingly high image quality. The camera takes on video surveillance day and night indoors and outdoors.
The camera detects intruders, fast movements, parking offenders etc.
In addition to the retail features "People Counting" and "Heat Map", the camera has more news under its dome: the enhanced analysis functions of the SNC-441 series detects intruders, faces, fast movements and people who are conspicuously wandering around. It responds to sabotage and provides information when objects are left behind. Users who monitor open spaces and parking areas receive information about parking offenders, for example.
With H.264 and H.265 Codec support
Innovative technology makes the SNC-441 high performing: it has both H.264 as well as the more economical H.265 Codec support. The latter saves up to 50 percent bandwidth compared to H.264 and delivers impressive image quality. The SNC-441 allows frame rates of 25/50 (European standard) or 30/60 (American standard) images per second with a resolution of 4 or 2 megapixels. The digital signal processor improves the processing power compared to the previous model by three and a half times. Added to this is a powerful working memory with 512 megabytes of RAM. The Smart Codec function (H.265+) can do even more: it achieves an still better image quality with the same bandwith for the relevant objects that have moved in the scene.
Organisation via cloud or app
Users can access the video system at any time while on the go: the system optimises device settings, retrieves recorded data or checks triggered events. The BURG-WÄCHTER cloud and the BURGcam apps are available for this integration. Access to cameras and recorders takes place via smartphone or tablet. Users have the option of controlling the devices using their smartphone or tablet. They can perform image adjustments and create snapshots and videos of incidents. Via the app, users furthermore receive push notifications of the detected incidents.