Smart Home: demand is increasing – electronic locks for house and apartment doors are gaining ground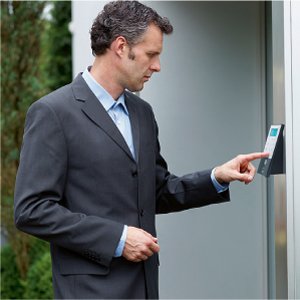 Standard for cars and gaining ground at home: keyless entry. Electronic locks are increasingly securing 'smart homes'. 'The demand in the specialist trade is growing. In addition to intelligent and practical everyday features, easy installation and operation are important to private users. And of course reliable protection', explains Sebastian Pollok of the security specialists Burg-Wächter. The latest generation of the secuENTRY electronic lock is therefore based on three factors: smart, simple and secure.
Smart: four unlocking media, scheduled entry, secure data transfer
Smart locking technology gives the user the choice between intelligent unlocking media. With secuENTRY, these are a PIN or fingerprint, smartphone or transponder. Each person who is authorised to enter decides individually on his or her medium. During holiday periods, neighbours get temporary codes or a transponder with temporary data. Cleaning personnel or craftsmen receive an entry option for specified time frames.
Simple: installation without a drill hole and configuration via display or PC
Changing from mechanics to electronics should require little effort – therefore the conversion to secuENTRY is simple. All cylinders of the model series fits every apartment and entry door up to a thickness of 118 millimetres – indoors and out. Existing fittings remain, and drill holes are not required. The user completes the configuration directly on the lock using the display. Any who wants to, can organise up to 15 users via the appropriate software on a PC.
Secure: no loss, no searching and no misuse
Life is easier and more secure without keys: no losses, no searching, no misuse due to illegal duplicate keys and no copies can fall into the wrong hands. PIN and fingerprints are unique, and the entry data can be deleted at any time on lost transponder cards. Only someone who has a valid entry authorisation can come through the electronically secured door. The secure data transfer is protected against manipulation and is made using an AES encryption that meets current standards.